La primera etapa reutilizable del cohete Falcon 9 aterrizó en una plataforma flotante en el Atlántico después del exitoso lanzamiento.
Un cohete Falcon 9 de SpaceX despega de la plataforma 39A con el séptimo lote de satélites de la red de banda ancha SpaceX, en el Centro Espacial Kennedy, en Cabo Cañaveral, Florida, EE.UU., 22 de abril de 2020.Joe Skipper / Reuters
El cohete Falcon 9 de SpaceX lanzó con éxito un nuevo lote de 60 minisatélites y los puso en órbita terrestre baja, en el marco del despliegue de la red global de cobertura de Internet que adelanta esa compañía. «Confirmado el despliegue exitoso de 60 satélites Starlink», notificó SpaceX en Twitter.SpaceX✔@SpaceX
Successful deployment of 60 Starlink satellites confirmed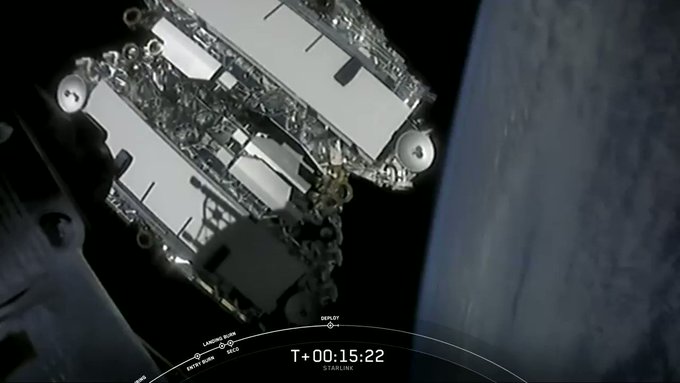 16,5 milInformación y privacidad de Twitter Ads3.483 personas están hablando de esto
El Falcon 9, de dos etapas, fue lanzado a las 19:30 GMT desde el complejo de lanzamiento LC-39A del Centro Espacial Kennedy, en Cabo Cañaveral, Florida (EE.UU.).
Unos 15 minutos después, los satélites –con un peso de 260 kilogramos cada uno– se separaron de la segunda etapa y entraron en una órbita elíptica, con alturas de entre 212 y 386 kilómetros. Posteriormente, estos artefactos usarán sus propios motores de iones para entrar en una órbita estándar con altitud de 550 kilómetros.
La parte reutilizable o primera etapa del cohete Falcon 9, que se usó este miércoles por cuarta vez, realizó un exitoso aterrizaje guiado en una plataforma flotante en el Atlántico.
Starlink es una iniciativa adelantada por la compañía de Elon Musk con el propósito de crear, en el futuro, una masiva 'constelación' de 42.000 satélites para proporcionar acceso a Internet en cada rincón de la Tierra. Con el nuevo lanzamiento, que fue el séptimo en el marco del proyecto Starlink, su actual constelación orbital está compuesta por 420 satélites.SpaceX✔@SpaceX
Falcon 9's first stage has landed on the Of Course I Still Love You droneship!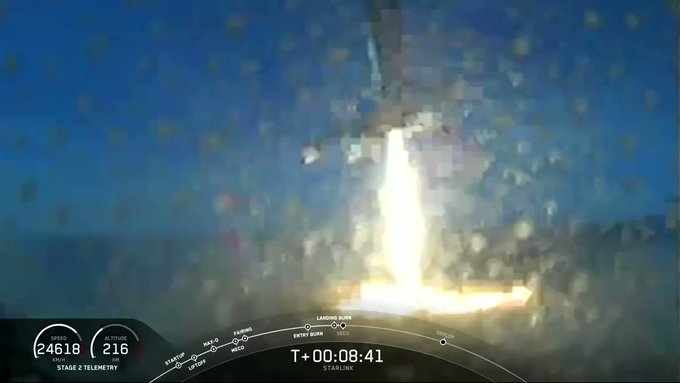 10,7 milInformación y privacidad de Twitter Ads2.135 personas están hablando de esto