Los carros se derriten, las personas se deshidratan y el termómetro sube: Kuwait registra las temperaturas más altas del mundo, superan los 60 grados.
Los termómetros de Kuwait lograron un nuevo récord mundial: 63 grados centígrados, la temperatura más alta registrada hasta ahora de todo el mundo. Hasta el momento, cinco personas han muerto por el calor y otras más sufren de deshidratación. Decenas de automóviles se han derretido
De acuerdo con el diario local Al Qabas, el pasado 8 de junio, los termómetros marcaron 52.2 grados centígrados bajo la sombre y 63 bajo la luz directa del sol en el país árabe.Ver imagen en Twitter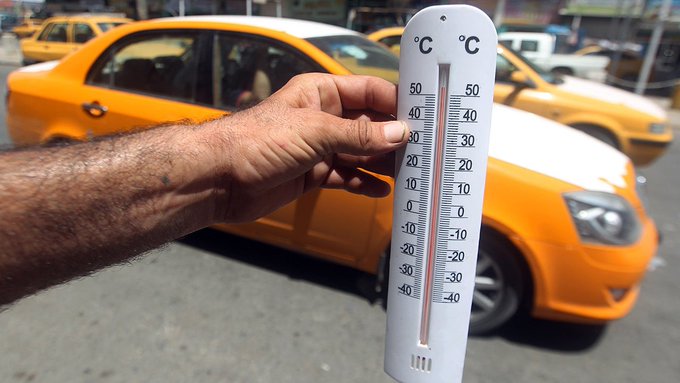 World Record Temperatures in Kuwait.
Up to 52 degrees wow!
Source: The Weather Channel#Kuwait #Heatwave96:08 – 17 jun. 2019Ver los otros Tweets de TalkAbout™Información y privacidad de Twitter AdsPUBLICIDAD
Hasta el momento, al menos cinco personas han muerto por el calor, así que las autoridades han recomendado a la población tomar precauciones para no deshidratarse.
De acuerdo con la comunidad científica internacional, la temperatura más alta que se tenía registrada en algún asentamiento humano, hasta el pasado gin de semana, era de 56.7 grados centígrados, registrada en Death Valley, California, el 10 de julio de 1913.
PUBLICIDAD
(Foto: Twitter)
Y el panorama no pinta nada bien para los habitantes de esta ciudad; se espera que las temperaturas alcancen los 68 grados durante el verano, que empieza el próximo 21 de junio.
Consecuencias de las altas temperaturas en la salud
Dolores de cabeza.
Deshidratación.
Vómito y diarrea crónicos.
Fotosensibilidad.
Calambres.
Agotamiento.
(Foto: Twitter)